Hera on stock exchange
"In a less uncertain scenario for interest rates, Hera's stock is again discounting good fundamentals"
Hera vs. FTSE Italy All-share Index (base: 2 January 2018=100)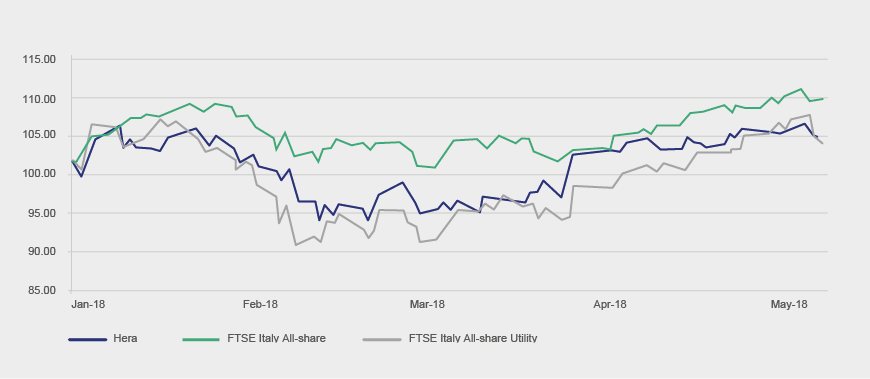 In early 2018, the uncertainty on the evolution of European interest rates affected the Hera's stock as well as the entire utility sector. While the signs of a decelerating economic growth became increasingly evident and the concerns of high inflation dissolved, the sentiment in the equity markets improved. On 26 April 2018, the ECB confirmed that rates would stay at current levels well beyond the end of QE, so creating further premises for a more equity-friendly environment.
Taken together, these factors led Hera to recover January's highs during the last few trading days, while investors were again focusing on solid fundamentals proven by the FY2017 Financial Statements and the visibility of the growth set out in the 2017-2021 Business Plan.
The attractive dividend yield deriving from the distribution of 9.5 euro cents per share, payable from 20 June 2018, also played a role in supporting Hera's stock prices. Considering the 2017 year-end price of 2.91 euro, the yield is 3.3%.
Analyst coverage
Consensus target price for the Hera stock remains very favourable, as the level of 3.37 euro indicates that there is room for revaluation at recent prices. The picture of recommendations further improved, since Equita SIM upgraded Hera from Hold to Buy and raised its target price to 3.5 euro. Currently, 7 brokers out of 8 covering the stock have Buy/Outperform ratings and the remaining broker has a Neutral recommendation.
| | | |
| --- | --- | --- |
| Broker | Rating | Target price (€) |
| Banca Akros | Buy | 3.30 |
| Banca IMI | Buy | 3.60 |
| Equita Sim | Buy | 3.50 |
| Fidentiis | Buy | 3.30 |
| Intermonte | Outperform | 3.40 |
| Kepler Cheuvreux | Buy | 3.40 |
| MainFirst | Neutral | 3.05 |
| Mediobanca | Outperform | 3.40 |
| Average | | 3.37 |
The resolutions of the Annual General Meeting
On 26 April 2018, 595 shareholders attended the Annual General Meeting. Since their holdings amounted to 1,033,163,860 shares, the attendance stood at 69.36% of total share capital.
The 2017 Annual Report, including the distribution of a dividend per share of 9.5 euro cents, was approved with 99.95% of shares voting in favour of the resolution.
The tight agenda of the Meeting included also the presentation of the 2017 Sustainability Report, which shows a 10% increase in the Shared Value EBITDA. The new reporting approach that Hera has adopted proves that the sustainability policies are integral part of the strategy.
Lastly, at the Meeting, shareholders have also approved the renewal of the authorisation for the BoD to repurchase shares for a maximum amount of 200 million euro over 18 months. The buyback is an opportunity, as the Company can use treasury shares both in strengthening value creation and during M&A deals that include shares as part of the consideration.