Message from the CEO
Focus on the targets of the 2017-2021 Plan
The capital allocation that we have planned will generate an increase in the EBITDA of all business areas, with the Networks business absorbing most investments and being the largest contributor in terms of EBITDA (+129 million euro). In 2021, we expect to maintain a well-balanced breakdown between regulated and liberalised businesses.
BUSINESS PLAN 2017-2021

EBITDA
E 2021
m€

1,135

CUMULATED CAPEX
2017-2021
b€2.9
EPS CAGR
2017-2021ca. +5%
COST OF DEBT
E 20213.5%
NET FIN.
DEBT/EBITDA
E 2021

2.9X 
BUSINESS PLAN 2017-2021
EBITDA E 2021 m€
1,135
CUMULATED CAPEX 2017-2021b€
2.9
EPS CAGR 2017-2021
ca. +5%
COST OF DEBT E 2021
3.5%
NET FIN. DEBT/EBITDA E 2021
2.9X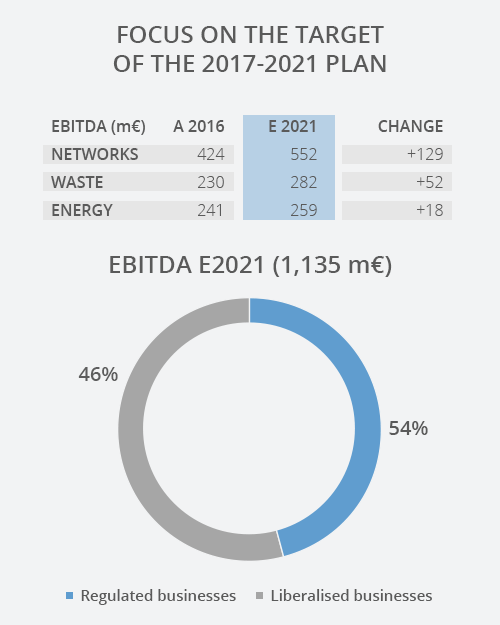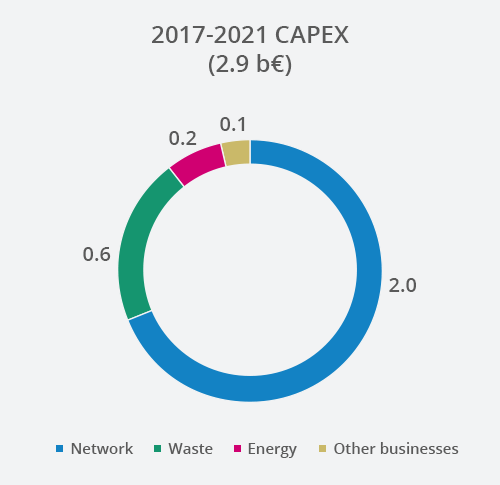 Clear business strategy with the aim of managing our portfolio of activities effectively
The Networks area presents huge potential for an operator like Hera, which can effectively manage its multi-utility portfolio in an operating environment characterised by disruptive changes. Thanks to the investments that we have carried out over time, even today we can boast infrastructures using cutting-edge technologies and an effective operational model. The materialisation of the tender process for gas concessions moreover provides a significant opportunity to accelerate growth in the coming years: out of 129 million euro of overall increase in the Networks EBITDA, 78 million euro derive from the area of gas distribution.
In the Waste area, today Hera is the pivotal player on the Italian stage, leveraging a wholly integrated portfolio offer, a Circular Economy-oriented approach, and a highly innovating management of its assets. The growth of EBITDA in the Waste area, expected to reach 52 million euro in the Plan's period, will be driven by both the organic component (+ 34 million euro) and new M&A deals (+32 million): those factors will counterbalance the decrease of 14 million euro in incentives. Capex supporting such growth, totalling 600 million euro, will be around 72% focused on waste treatment. We expect that the objective of expanding the segment of special waste treatment will lead us to increase the customer base from 3,700 units in 2016 up to 5,400 in 2021. The visibility of such expectations depends on our capacity to meet the evolution of demand. On one hand, the demand for waste treatment is expected to grow from 4.3 million tons in 2016 to 5.5 million in 2021. On the other hand, we should consider that the growth will be only concentrated in the segment of special waste (with an estimated increase of 1.4 million tons), while that of urban waste will remain almost stable (-0.2 million tons). Hera's offer, aiming at an integrated and circular service in waste management, is ideally placed to benefit from such evolution of demand.
Lastly, in the Energy business, Hera seeks to increase at best the value of the solutions it can provide, with a view to exceeding the threshold of 3 million customers. A service offer that is
innovating, tailored, and adding real value, while going beyond the pure commodity supply, represents the most effective way of tackling the pressure on margins. Even this business offers attractive opportunities in terms of market expansion and changing patterns in demand. Hera will seize those opportunities also through M&A deals, with a driving impact on the overall growth of 19 million euro that is expected in the Energy business.
Two thirds of the five-year growth derives from Shared Value projects
A pillar of the Plan to 2021 focuses on our long-term orientation in the intelligent use of energy, in the efficient use of resources and, lastly, in innovation and community development, under an approach that fully embraces the creation of Shared Value. Therefore, if already in 2016 around 300 million euro, i.e. 30% of consolidated EBITDA, emerged from the creation of Shared Value, in 2021 Hera will achieve some 450 million euro at EBITDA, i.e. 40% of consolidated EBITDA, from those activities.