Message from the CEO
Focus on the 2018-2022 Plan's targets
2018-2022 BUSINESS PLAN

EBITDA E 2002 m€
1.185
CUMULATED INVESTMENTS
2018-2022
b€
3,1
COST OF
DEBT E 2002
3,7%
TAX RATE
E 2022
30%
NET FIN.
DEBT/EBITA
E 2022
2,9X
| | | | |
| --- | --- | --- | --- |
| EBITDA (m€) | A 2017 | E 2022 | CHANGE |
| NETWORKS | 424 | 581 | +157 |
| WASTE | 246 | 297 | +51 |
| ENERGY | 293 | 268 | -24 |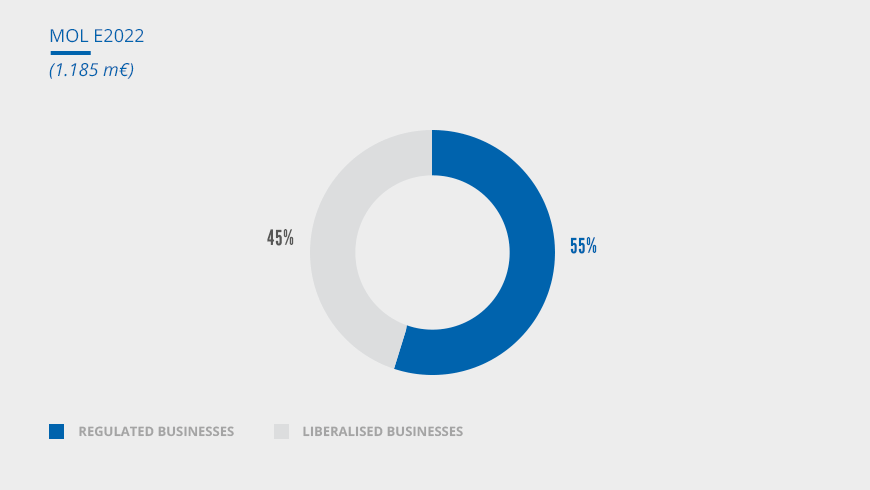 In the new plan, which will lead Hera towards 2022, we have chosen to evolve our business in order to improve the quality and reliability of the services we offer, believing that our economic and commercial success will depend on how we address that challenge.

Consistently, we planned the most important capital allocation ever dedicated to projects aiming to reinforce our own infrastructure.
Planned investments, of 3.1 b€ over the five-year period, will allow for a 200 m€ growth of EBITDA.
Networks, which will absorb 2.2 b€ investments, will also offer the highest contribution to EBITDA, with an expected growth of 159 m€. In the Waste business we will invest 618 m€, while we expect to achieve an EBITDA increase of 51 m€ in that area. In 2022, we therefore aim to have a balanced mix between regulated and liberalised activities, with the firsts weighting 4 percentage points more than in 2017. 
Clear strategic direction in a changing scenario
The strategic objectives of the new Business Plan have been developed in the awareness that we have to address three key success factors:
capacity to play our own role of multi-utility inside an Ecosystem;
willingness to use the resources efficiently, implementing Circularity policies and fostering decarbonisation;
utilisation, both in our own business and with clients, of innovative solutions offered by Technology, according to the concept of Utility 4.0.
Specific milestones that Hera has identified within the 2030 agenda of the UN Sustainable Development Goals also guide the strategic direction.
Hera will pursue its strategy by leveraging on efficiency, agility, innovation and excellence: all elements that have long inspired our Company.
Hera's strategy takes shape through specific business strategies
The structure of the investment programme of 3.1 b€ is driven by a clear business strategy.
Networks represent a solid and visible source of cash generation to Hera. In this area, we will carry out new projects that are part of widespread trends. Namely, partnerships in the geothermal business and new technical services to customers will give substance to the Ecosystem issue; Technology will open up new frontiers for our business both in district heating and in smart meters, while Circularity will guide new services in water management as well as developments in biogas activities.
A relevant stake of planned investments will be aimed to improve Networks resiliency and security. Development capex, amounting to 885 m€, will be mainly dedicated to gas concession tenders, while maintenance capex, amounting to 1,291 m€, will be mostly focused on water networks. Our decisions are based on evidence: investing on network and service quality is rewarding, as Regulation recognises financial bonuses for marketing and technical quality.
We expect a 159 m€ increase in Networks EBITDA. Roughly 50% of such increase therefore will be driven (78 m€) by organic growth, while one-third (31%) by M&A. Lastly, gas tenders will contribute by approximately 20% to the overall growth of Networks EBITDA.
In the Waste area, over the Plan's five-year period, Hera seeks to be confirmed as operator in its expired concessions that will undergo a tender process, with the aim of further strengthening its position in areas in which it is already a leading player. The Company will leverage on effective technology, consolidated efficiency in integrated management and high levels of sorted waste, being well ahead of the EU schedule.
The most relevant effort will be aimed to favour the adoption of circularity by clients. Therefore, from the Ecosystem perspective, we will intensify the policies for citizens' engagement while also encouraging the recycling of special waste. The Technology will help us apply a direct tariff and manage our business as well as possible, by analysing an extensive set of data and information. The Circularity paradigm will we concretely expressed in the initiatives for biomethane as well as in recycling and regeneration of plastics.
In the Plan's period, a sizeable expansion of volumes in the Waste business is expected, up to 8.3 million tonnes yearly. While the contribution from disposals is expected to remain flat (0.9 m tons/y), based on new capacity investments, treated waste will rise (from 3.7 to 4.5 m tons/y). In addition, the share of third-party waste will grow (from 2.3 to 2.9 m tons/y), as we aim to serve large industrial users locally. Over the 2018-2022 period, we expect to increase by 10% the number of industrial clients, which would increase to approximately 4,000 in total.
Development investments in the Waste business will amount to 201 m€, mainly represented by the building of two biomethane plants and the revamping of two WTEs. Maintenance investments will amount to 417 m€.
The 51 m€ increase in the EBITDA of the Waste area over the 2018-2022 period reflects the phase-out of 8 m€ of incentives on renewables, while it is essentially led by organic growth, expected to be 48.7 m€. We also estimate a 12.6 m€ contribution from M&A.
Lastly, in the Energy business, Hera aims to take full advantage from the smart solutions it can offer, targeting 3 million clients in 2022, compared to 2.4 million clients in 2017. A key factor will be the ending of the "safeguarded" market, which provides us with the opportunity of winning at least 500,000 clients.
With a view to Ecosystem, Hera will leverage its offer for Added Value Services and renewable energy, while exploiting opportunities provided by Technology, also in terms of Artificial Intelligence. The Circularity approach will instead take shape through energy efficiency solutions and electric mobility projects, with a target of 400 SMEs clients 100 top business clients in 2022.
A customised and added-value offer of services, integrating the pure supply of the commodity, is the most effective solution when seeking for additional marginality in coming years. According to a recent survey, a significant number of clients would appreciate the availability of remote control thermostat and consumption monitoring systems. In this Plan, therefore, we target around 65,000 added-value contracts in 2022.
As regards the last resort markets, the annual tender for default gas will have an impact only on 2019. Hera boasts a strong position in these segments, with a dominant market share both in default gas and in safeguarded electricity.
The Energy area's EBITDA is expected to decline by 24 m€ in the Plan's period, with the organic component decreasing by 40.5 m€, only partly offset by the positive contribution of M&A, amounting to 16.3 m€. The performance of the Energy area is penalised by the expected reduction of margins in the last resort markets, where in any case Hera has been confirmed as the leading operator for the next two years, following to the recent tenders that took place at the end of 2018. Such negative impact is mitigated by the expansion in the client base, which will be also facilitated by cross selling policies. Hera's multi-business structure moreover favours client loyalty, as proven by our churn rate, 30% lower than the market average. 
Three-quarters of cumulated growth of EBITDA will enhance the Shared Value creation
As mentioned above, we developed the Plan to 2022 with a view to achieving 10 of the 17 goals in the UN Agenda, taking into account the needs of our clients and the ecosystem of the communities in which we operate, in a deeply changing scenario. In the light of these changes, among its strategic goals, Hera included activities with regenerating impact, supporting the environmental resiliency and responsible use of resources. As a result of such approach, roughly three-quarters of the EBITDA increase in the five-year period will be driven by sustainability projects, while in 2022 the Shared Value EBITDA will exceed 470 m€, therefore reaching 40% of consolidated EBITDA.