Hera on stock exchange
"Within an uncertain framework, Hera stock ensures a visible yield, leveraging on solid fundamentals"
Hera vs. FTSE Italy All-share Index (base 2 January 2018=100)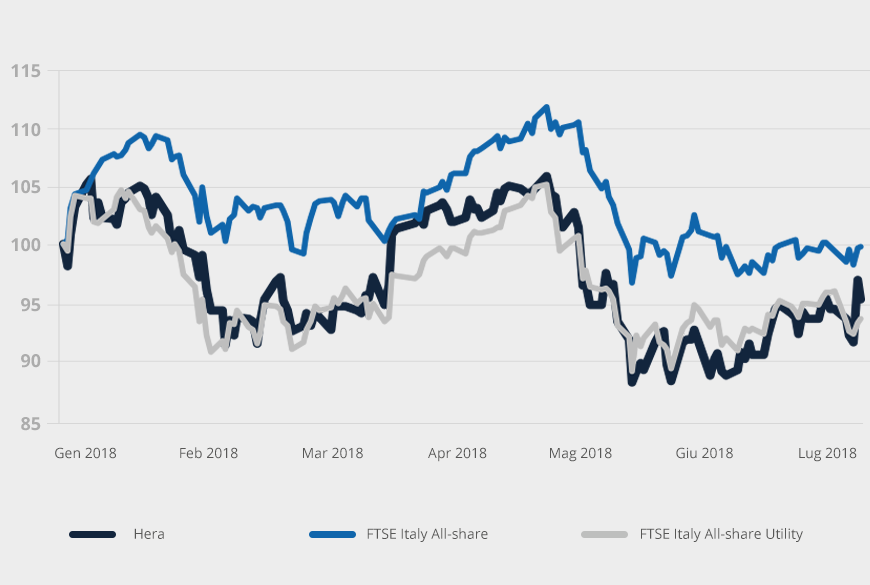 During 2018, Hera stock performance has shown high correlation with the dynamics of the sector index, reflecting an uncertain scenario, both for interest rates (due to easing policies of Central Banks coming to an end) and for GDP growth (due to the possible impacts of US protectionism). In such an environment, notwithstanding sound Company's fundamentals, the review of equity risk premium has generally affected stock evaluations.
Given the above, the remuneration that Hera provided to its shareholders through the distribution of a 9.5-cent DPS (paid on 20 June 2018) proves more valuable. The yield of the 2018 dividend will be even more remarkable. In addition, the visibility of 2018 DPS is high, as the Plan targets a 10-cent DPS, against an EPS of 10.8 cents already achieved in H1.
| | | |
| --- | --- | --- |
| Broker | Rating | Target Price (€) |
| Banca Akros | Buy | 3.30 |
| Banca IMI | Buy | 3.60 |
| Equita Sim | Buy | 3.50 |
| Fidentiis | Buy | 3.30 |
| Intermonte | Outperform | 3.40 |
| Kepler Cheuvreux | Buy | 3.40 |
| MainFirst | Neutral | 3.05 |
| Mediobanca | Outperform | 3.20 |
| Average | | 3.34 |
ESG issues at the heart of Hera Investor Relations
Hera at the Sustainability Day organised by Borsa Italiana in Milan

On 2 July 2018, Hera took part in the Italian Sustainability Day, through one-on-one meetings with several institutional investors, interested in exploring ESG issues. Among them, some of the most relevant and qualified asset managers at international level. They pointed out that over the last 15 years the Company has managed to develop strategic moves characterised by consistency and continuity, while a consolidated management team has effectively executed that strategy.
Hera CEO, Mr. Stefano Venier, has moreover joined a discussion panel focused on Strategy, Reporting, Communication, with a presentation explaining how Hera aims to lead the change in these areas. Among the levers identified as change enablers, he stressed the importance of:
"Smart" use of energy
Efficient use of resources
Innovation and contribution to development.
Hera introduced its model, which focuses on building the Smart Circular City, in which Technology plays an enabling role and People are the change agents.
Lastly, as regards reporting, Hera illustrated the new methodology, applied also in the 2017 Sustainability Report, focused on measuring creation of Shared Value.
Hera ranks sixth in the "Value Creators" ranking of BCG
Boston Consulting Group has ranked the listed companies in the power and gas sector at global level, by Total Shareholder Return (Capital Gain + Dividend Yield) provided over the 2013-2017 five-year period. In the 20th edition of the BCG Report, Hera ranks sixth, thus proving that a strategy geared to Shared Value translates into visible benefits for Company shareholders in a long-term perspective.