Message from the CEO
Focus on 9M 2018 results
9M 2018
(data in mn€)
REVENUES
4,348.4
(+8.0%)
EBITDA
748,6
(+3.3%)
EBIT
376.5
(+5.2%)
NET INVESTMENTS
287.3
(+15.8%)
NET FINANCIAL DEBT
2,642.0
(Debt/EBITDA 2.62x)
Hera's 9-month results show healthy operating performance, with an improvement in all the main businesses, as a result of actions taken over time to expand and consolidate presence in liberalised businesses and investments carried out to run regulated businesses efficiently.

In addition to sound operating performance, Hera's P&L counts on the substantial contribution provided by an efficient financial and fiscal management, which paves the way to a 14.3% increase in net profit compared to the same period of 2017.
In the first nine months of 2018 Hera's consolidated Revenues increased by 8.0% (+320.6 mn€ vs 9m 2017), in spite of a 25 mn€ decrease in the electricity production. The Revenue rise was mainly due to the following drivers: i) increased Trading (92 mn€), ii) higher volumes sold in both Gas and Electric Energy (131 mn€), iii) system charges and volumes distributed rising by 83 mn€. The Waste area also provided a contribution of 22 mn€.
Hera achieved a 23.9 mn€ rise (+3.3%) in its consolidated EBITDA, resulting from the positive contribution of most business areas. The EBITDA increase recorded in the Gas area, 20.8 mn€, was led by stronger volumes sold (+21.7%) and higher margins, both in sales and in trading. The Waste area moreover contributed with an increase of 8.8 mn€ at EBITDA level, as a result of higher prices in special waste treatment and lower costs in plant maintenance; those positives more than compensated the impact from the ended waste service in the Forlì area. Also in the Water area EBITDA is on the rise (+7.9 mn€), due to higher revenues from aqueduct, additional operating efficiencies, and lower commodity costs. The Electric Energy area on the contrary shows an EBITDA decrease (-14.2 mn€), due to the maintenance activity at the Teverola power plant and to the application of the regulation of actual unbalances. Nonetheless, in that business, Hera achieved and encouraging increase in its customer base (+7.8%), reaching 1.04 million users, with some 75,000 new customers vs. 30 September 2017; such expansion involved both the safeguarded service and the liberalised business, as a result of marketing efforts mainly focused in Central Italy.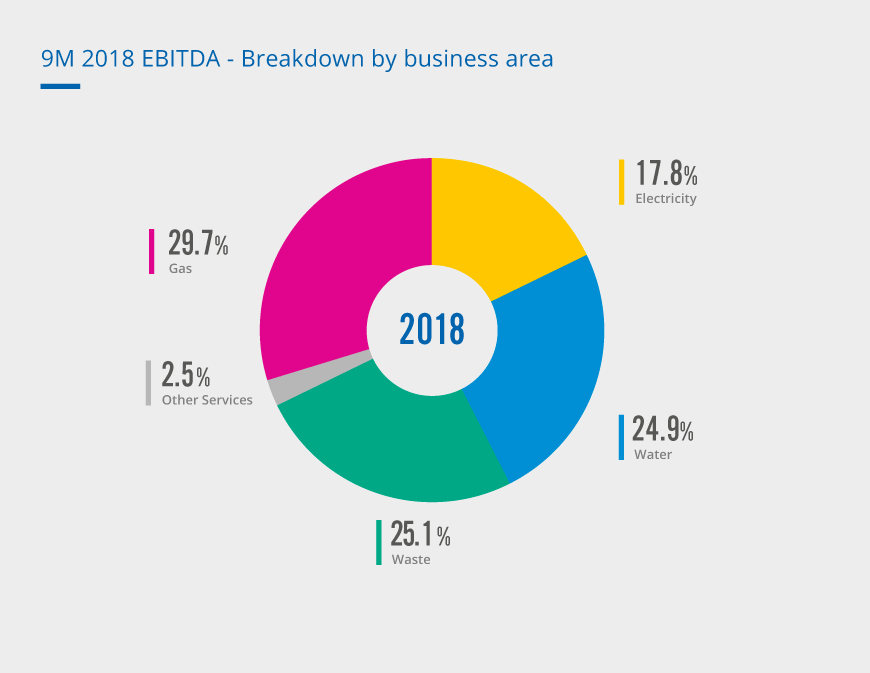 | | | | |
| --- | --- | --- | --- |
| EBITDA (mn€) | 9M 2018 | 9M 2017 | Change |
| Waste | 188.2 | 181.4 | +3.7% |
| Water | 186.2 | 178.3 | +4.4% |
| Gas | 222.2 | 201.4 | +10.3% |
| Electricity | 133.2 | 147.4 | +9.6% |
| Other services | 18.8 | 16.2 | +16.0% |
| TOTAL | 748.6 | 724.7 | +3.3% |
The growth achieved at the level of consolidated EBIT (+5.2%) was even stronger than that achieved at EBITDA (+3.3%). The 'Depreciation and Provisions' item rises at a relatively low pace, equal to 1.5%, as a result of higher depreciation reflecting new assets entering into operation, while Provisions to the Loan Loss Fund fell.
The area of financial management shows an 8.9 mn€ drop in net financial expenses compared to 9m 2017 (-12.0%), thanks to debt cost efficiencies and interest proceeds for payments in arrears from safeguard customers.
The fiscal management area benefits from a lower tax rate, 30.1% from 32% in 9m 2017, as a result of the continuous effort for fiscal optimisation allowed by the legislation in force, which Hera mainly achieved through super depreciation, tax credit for R&D and patent box.
Lastly, Net Profit post Minorities shows a sizeable increase (+14.1%), reaching 208.7 mn€. The Net Profit-to-Revenues ratio therefore moves from 4.5% in 9m 2017 to the current level of 4.8%.
Diversity and Resilience: Hera's contribution to the European Forum Alpbach 2018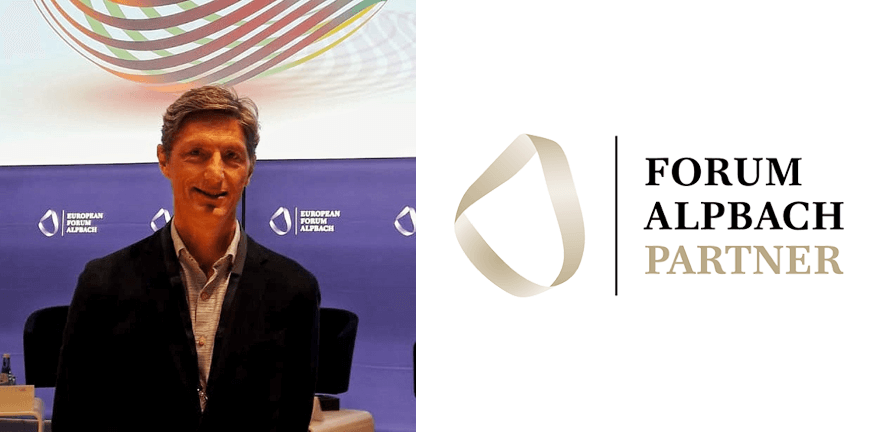 On 28 August 2018 Hera took part in the Alpbach Economic Symposium, presenting its vision for a diverse and resilient Europe in an age of constant change.
Mr. Stefano Venier, Hera's CEO, was the corporate representative participating to the event as an expert in issues pertaining to Diversity (in the most holistic sense of the word) and Economic Resilience. During the round table dedicated to the topic, the Group CEO illustrated the actions that Hera pursues in business development (which is more and more circular, inclusive, smart and technologically advanced) and engagement of customers, which turn into essential partners to achieve an economic growth that is both resilient and has strong shared-value. The engagement of different stakeholders moreover represents an effective example of the 17th Goal of the UN Sustainable Development Agenda, "Partnerships for the Goals".
The main concepts presented on the topic of the Symposium are summarised below.
Hera interprets the diversity as a strength with respect to the objective of having an actually resilient Europe.
From Hera's viewpoint, the increasing polarisation of a few clusters – in economic, social, and political terms, but even in climate field – is an element of fragility and uncertainty; to reduce the gap between diverging extremes is therefore a priority.
By embracing the Shared Value perspective, Hera tries to reduce polarisation, intended as possible distance between itself and its customers. The pursued objectives indeed create value for both Hera and the society in which it operates.
In this framework, the Group focused on three main strategic goals of the UN Sustainable Development Agenda:
Smart use of Energy (Goals 7 and 13)
Efficient use of Resources (Goals 6,14 and 12)
Innovation and development of Ecosystems/Communities (Goals 5,4,8,9 and 11).
Impacts of actions planned are tracked and measured over time. Hera puts these actions at the heart of a process that involves listening, sharing and communicating with local communities.
For this purpose, the Company put into play a number of projects, aimed at engaging people on the opportunities for re-using medicines, food, clothes and goods. The perspective of the Circular & Smart City is also of particular importance, while the first pilot is underway in a small city near Bologna.